Home vacation 2011: Derby
This year my mom came to visit, her first trip to Europe. Technically Derby is not home but it is where the Fluf is (and her husband Andy), so we went up to visit.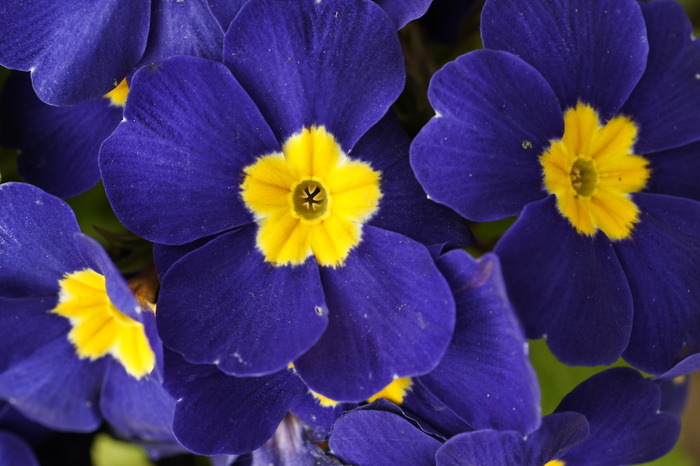 We weren't sure what these flowers were, but Mum (Andy's mum) told us they are primroses.
Comment:
definitely primroses :-)
My mom (not Mum) had stayed in contact with some of my dad's internet friends, who invited us out to see one of England's historic country homes. We landed at Kedleston Hall, home of the Curzon family since 1297. The current building dates from 1759.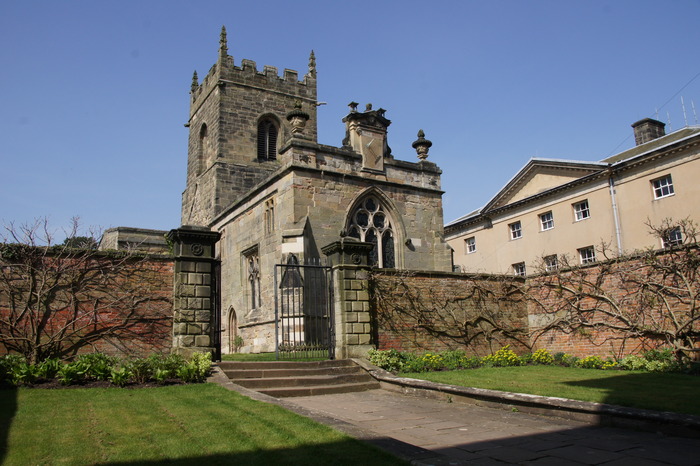 Our first stop was the church, the All Saint's Church. Records of a church on the grounds date back to 1198, but most of the current building dates to the 1200's. The top of the tower was added in the 1400's, and decorations (including the sundial) were added in the 1700's. The inscription on the sundial reads We shall, and was intended to be a pun - We shall sun dial = We shall soon die. (The tour guide did not explain who decided to add this morbid joke.) In 1908 Lord Curzon added a nave for the burial of his wife, Mary. The church was declared redundant (that is, it is officially no longer a church) as of 1983, and became part of the National Trust lands.
Comment: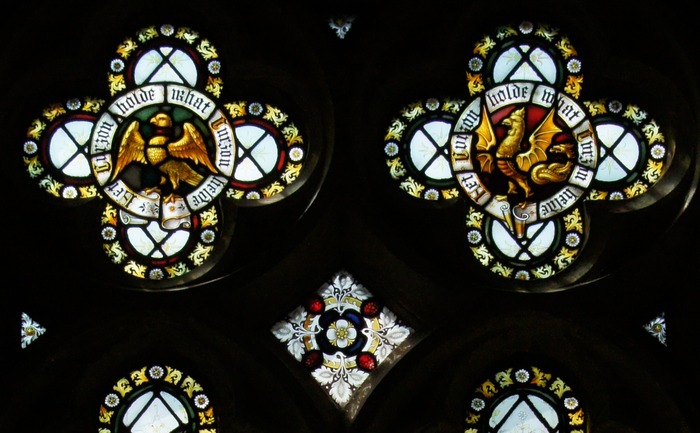 The stained glass is also fairly recent, from 1908. I particularly like the basilisk. There are many questions raised here which are not easily answered by the tour books. There are several graves inside the church - that is quite normal for old churches. But why are the years of death represented with divided lines, both for the Lord and Lady Curzon of the time? I can imagine that any one date became unclear over time, but both?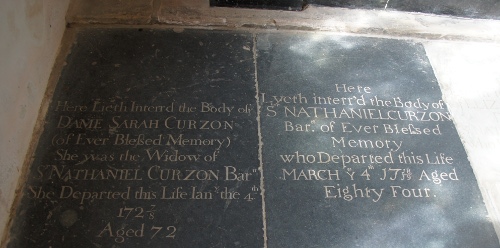 Comment: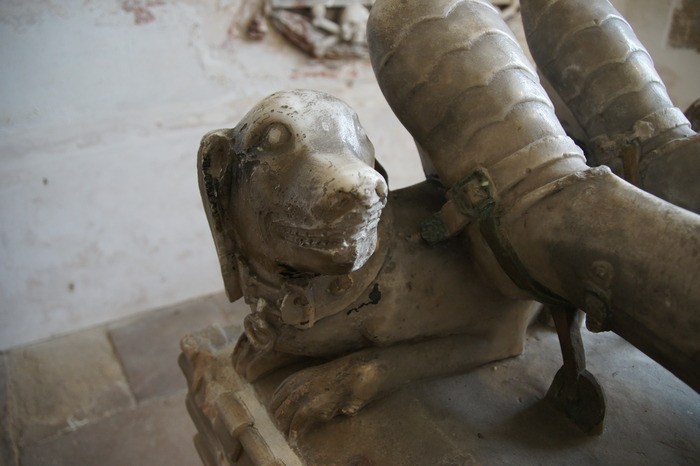 This grim grinning dog is part of the funary marker for another Curzon pair. The inscription reads, These effigies of John Curzon, commonly called White Head, and Joan daughter of Sir John Bagot of Blithfield his wife, who lived circ 1450, were removed from the north east corner to the centre of this transept and were repaired in 1909.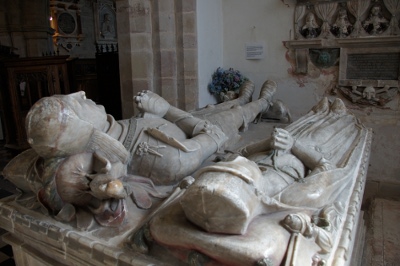 Comment:
I wonder if their dog was buried along with them?
in funerary art, dogs were placed beneath the feet of the deceased to indicate faithfulness or fidelity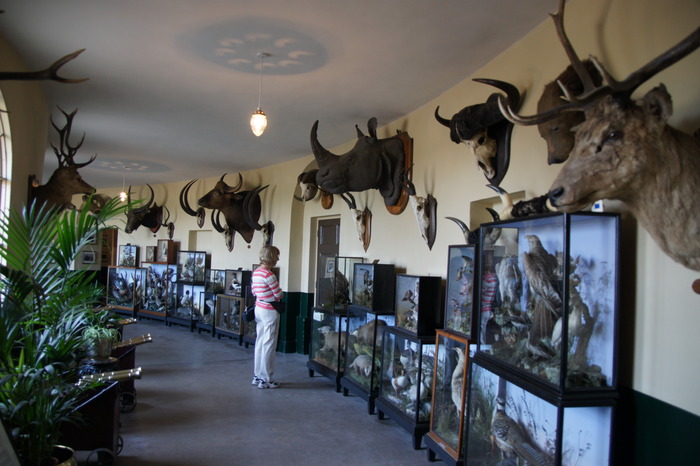 Like any good gentleman's home, there is a hall of creatures which were shot in the gentlemanly escapades of the owner. My mom takes a close look at an unfortunate badger and an equally unlucky hawk.
Comment:
Though I'm not anti-hunting, I was feeling sorry for all the poor creatures.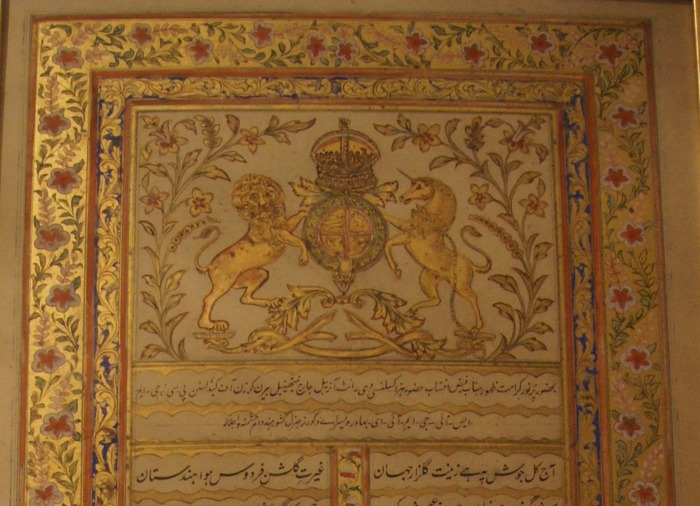 Another unexplained mystery of the Hall: This scroll, hanging in a quiet hallway near the above heads, bears the royal coat of arms of the United Kingdom (the lion and the unicorn). It also seems to be written in Arabic. One of the Lord Curzons was viceroy of India in the early 1900's, so it would not be odd to have a scroll in Hindi, or even one of the more exotic Indian scripts, but to my untrained eye it does not appear to be in the Brahmic family (which usually has a bar running across the top, somtimes blending into more kanji-like characters in Eastern India). This, to me, looks Arabic... but what is it? Why is it in the Curzon collection of mementos?
Comment: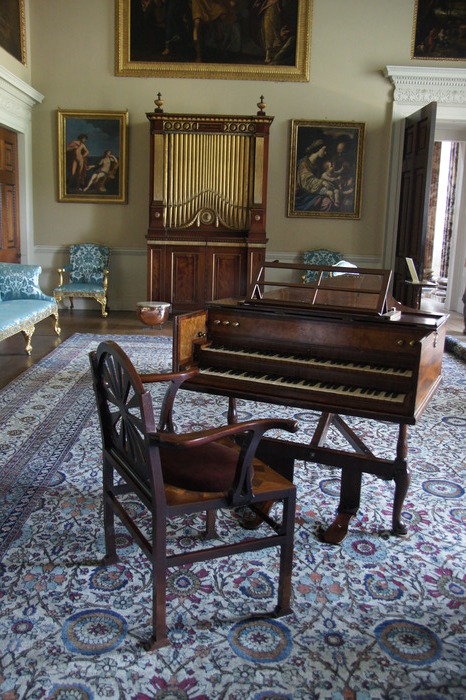 The music room. I could recognize a few Dutch Masters on the walls here, and a few Rubenesque paintings as well.
Comment: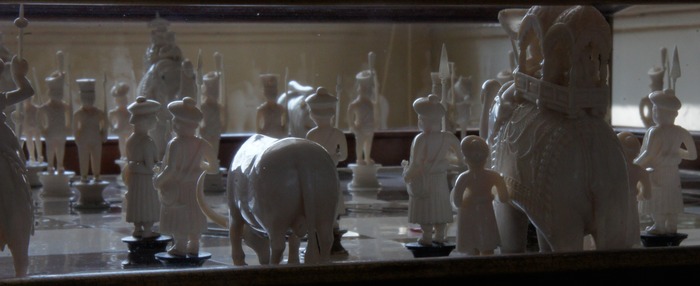 By far the most interesting piece in the room was the chess set - both sides with peasants in the front and elephant-riding calvery, this side with Auroch-like bulls in the role of bishop, and the opposition with tigers.
Comment: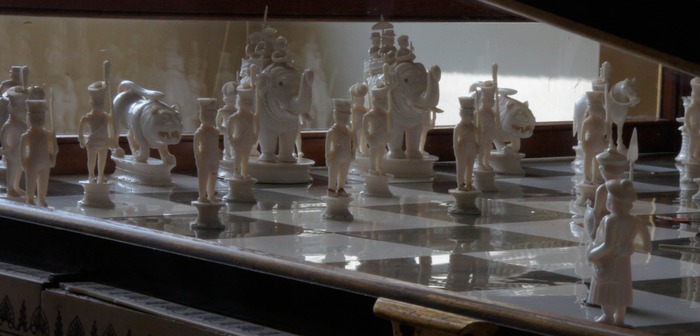 The saloon of the house (not a bar in the old west, but the central room in a mansion, designed to impress visiting heads of state). The designer of this one had obviously been to the Pantheon in Rome. Even so, one can hardly keep from looking up.
Comment: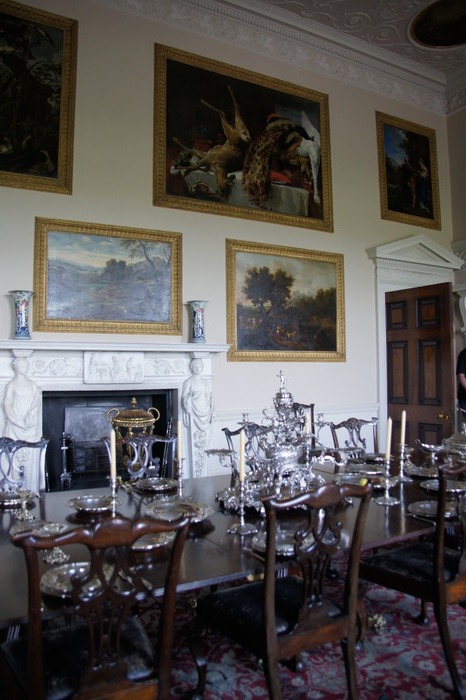 The dining hall contained amazing and delicate silverware... and a collection of art that would be certain to put the modern diner off of his meal.
Comment: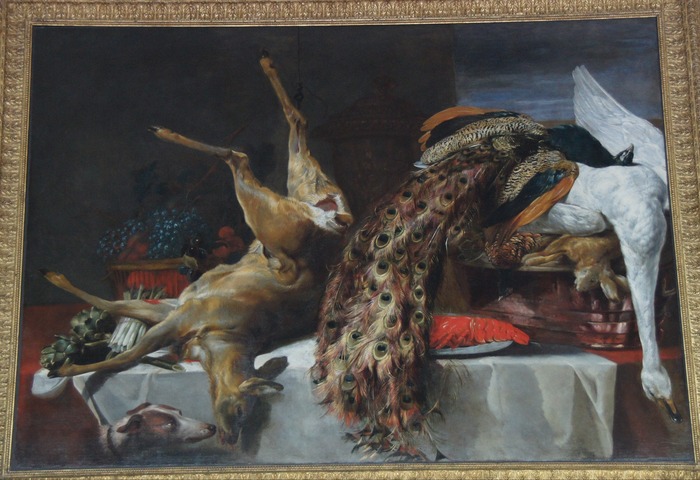 A recently deceased deer bleeding all over the asparagus (the notion of food safety laws wouldn't be invented for another couple hundred years). Peacocks, though exotic, were domesticated in Greece in 450 BC and have been kept in European aviaries since. The lobster was a distinct symbol of wealth in landlocked Derbyshire, and before refrigeration it would probably be brought in by fast horse... a luxury only the extremely wealthy could afford.
Comment:
A real appetizing picture to put in your dining room, isn't it?  I also noticed the dog sniffing the deer.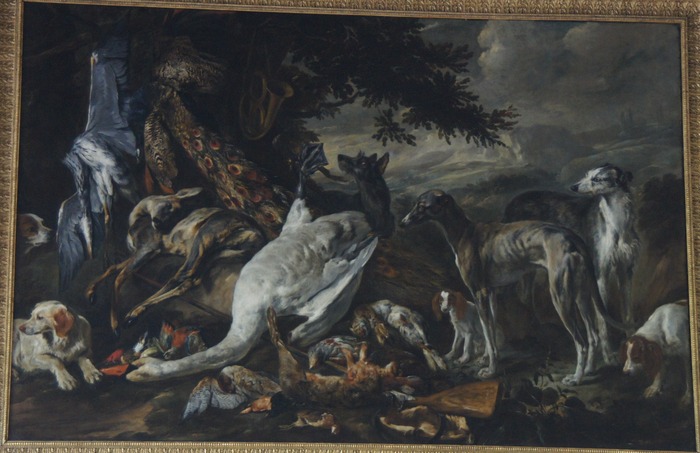 This painting shows a variety of game and a variety of dogs to acquire it... a beagle in the far left, a setter or Brittany spanial ancestor below, a couple more spanial-types at the bottom right, and coursing hounds at the right-center. One of these seems to be wondering who decided to put a tuba in the picture.
Comment: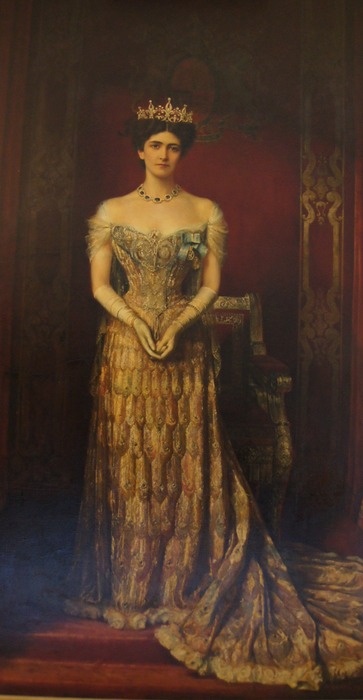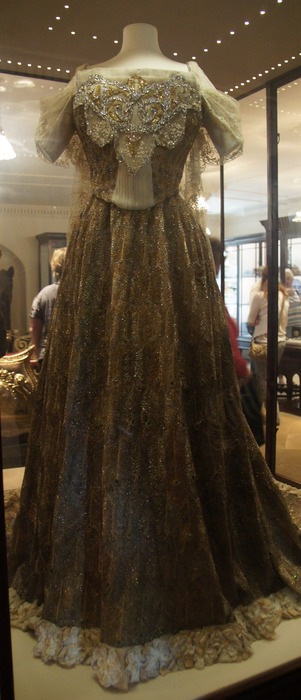 In 1903, Lady Curzon attended a party in Dehli, India, to celebrate the coronation of the new King and Queen of the United Kingdom as Emporer and Empress of India. The Lady Curzon had a dress made for the occasion, sewn with precious jewels. The dress is rumored to be the most expensive ever made... although the jewels have since been replaced by glass. The dress was not out of place, however, as the celebration was attended by the Indian Rajas, who wore centuries of wealth in jewels to the event.
Comment: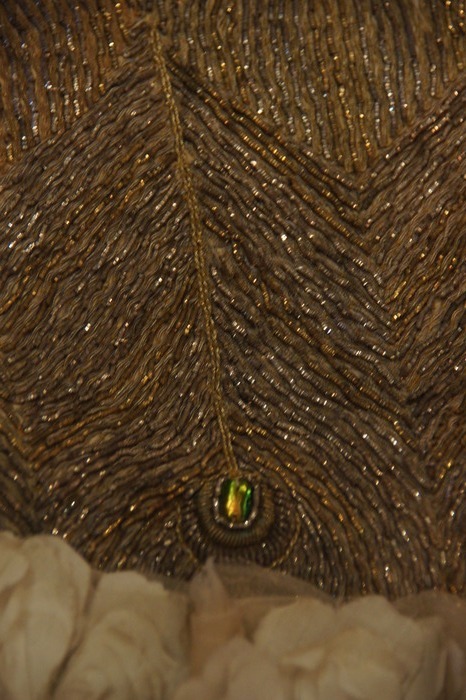 Detail of one of the peacock feathers of the dress.
Comment: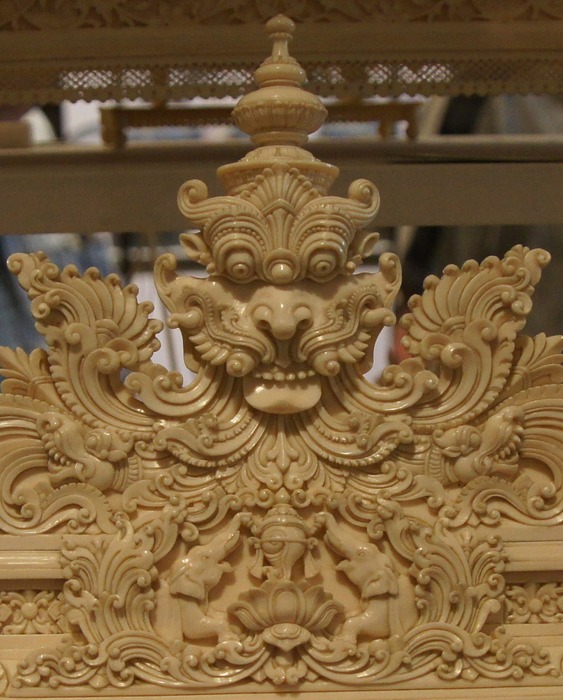 I suppose when you are a well-to-do English turn-of-the-century man of the world, you travel the world. And collect stuff from its far corners. This guy looks Balinese to me.
Comment: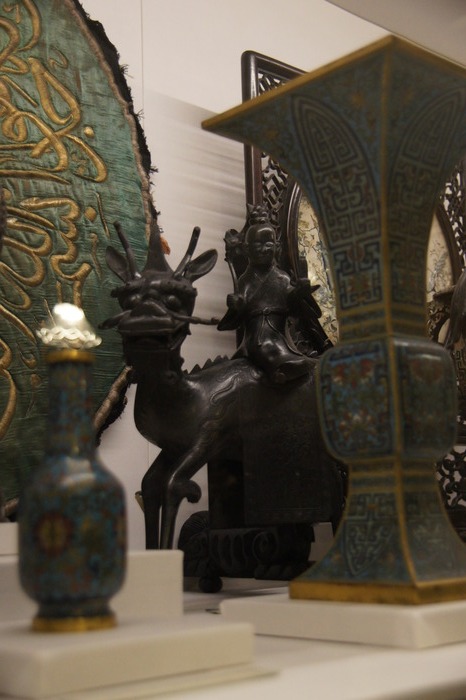 This, on the other hand, looks like nothing I've ever seen. I believe it is someone riding a qilin, or kirin. The kirin is a creature of Chinese legend, described as having antlers like a deer, scales, and hooves.
Comment: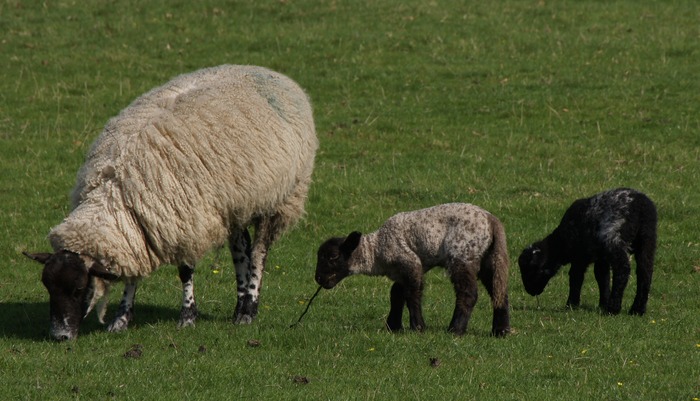 Of course, Mom and I liked the sheep who were busily mowing the grounds around the hall. Our local guides thought we were strange, but we can blame it on being Americans.
Comment:
Much more eco-friendly than a riding mower!
We have lots of cattle in Missouri, but sheep (especially with long tails and baby lambs) are not often seen.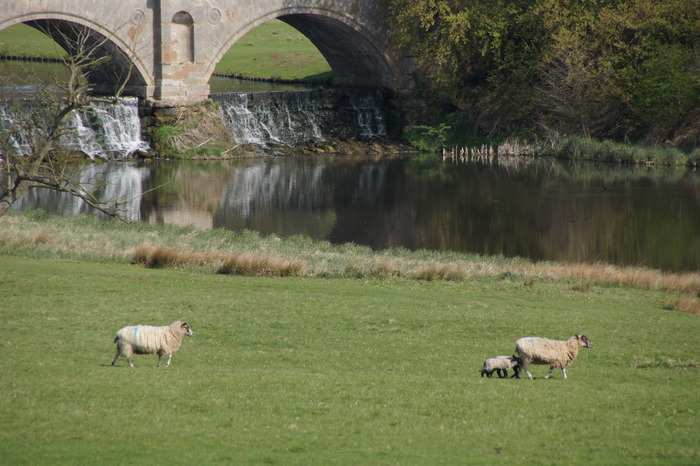 Sheep in front of the bridge.
Comment: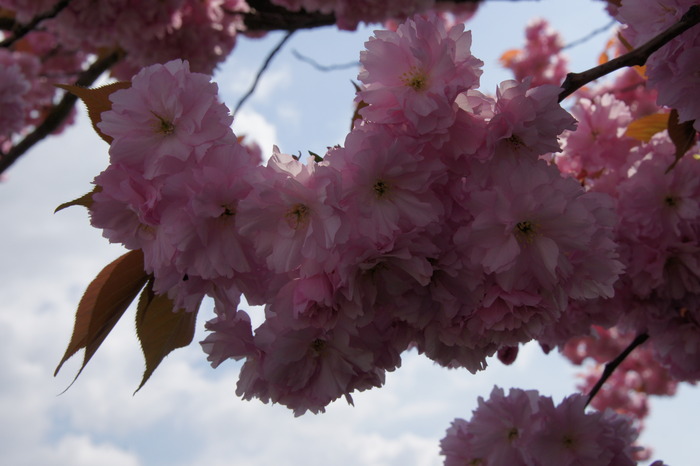 Flowering cherry tree
Comment:
Andy took us to the Heights of Abraham... which was very kind of him, since Andy hates heights, and you get up by taking these four-person tram cars to the top.
Comment: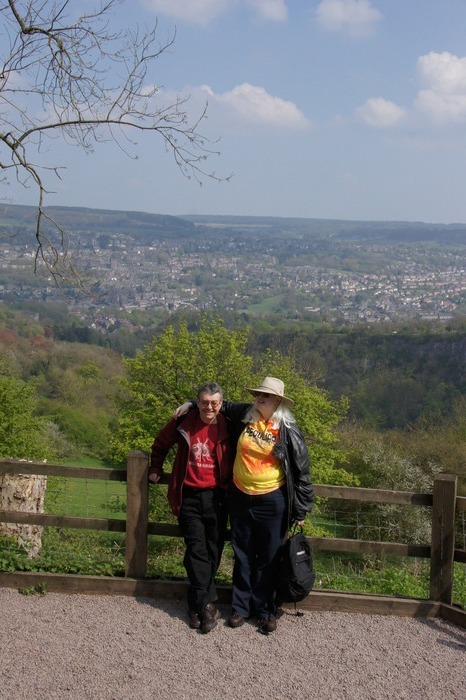 Proof that Andy really was there with us.
Comment: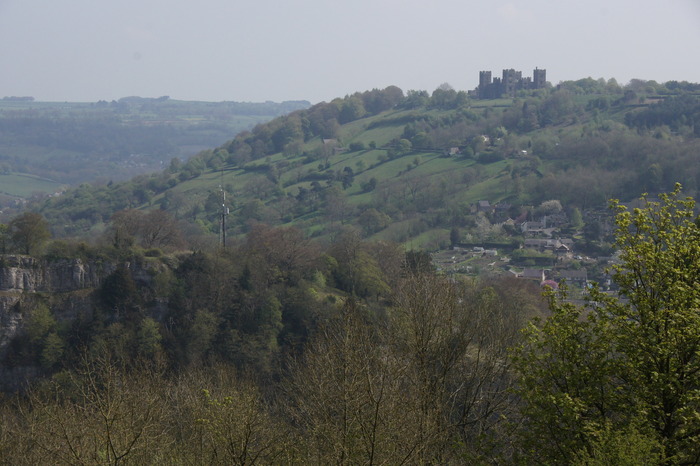 The next hill over is home to Riber Castle, built as the private home of the Smedley family in 1862. In World War II it was used as a storage depot, but it was already beginning to crumble. By the year 2000 there was serious concern that it might fall down, but no one was really interested in donating the funds to shore up a fake castle created by a wealthy Victorian. The latest plan is to let a private company convert it to luxury apartment buildings.
Comment: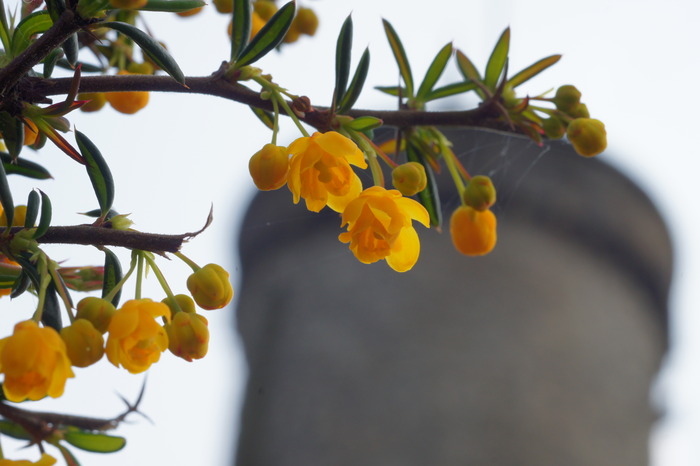 Wildflowers in front of the lookout tower.
Comment: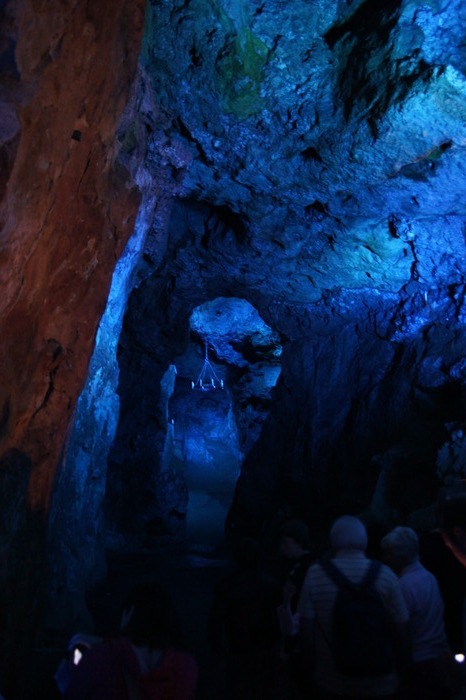 There are two caves/mines in the Heights. I believe this one was Masson cavern. Mining stopped and tours started in these caves as early as 1844, when the chandelier held candles.
Comment: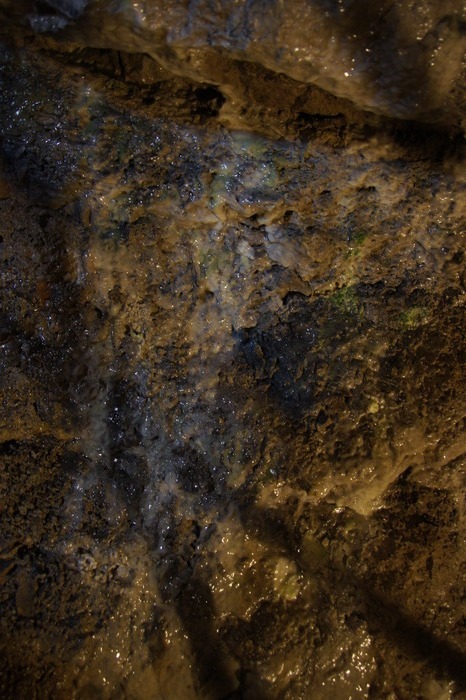 There are not many formations in these caves, aside from what our guide called miner's snot. It is not actually slimy, but just smooth wet rock.
Comment: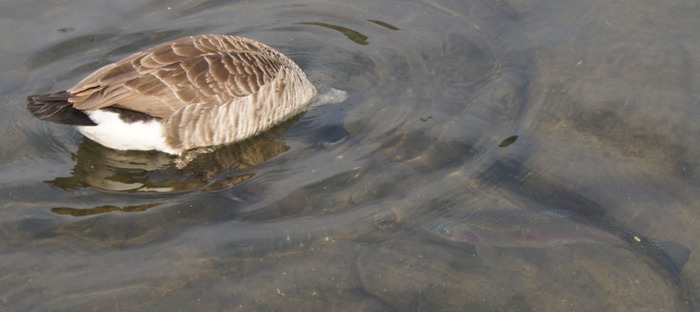 Our next stop was Bakewell, a town known for its its tarts (desserts, not women of negotiable affections). The tart was OK, but a stop by the banks of the Derwent river made me wish I'd brought a fishing pole. If you look carefully in the lower right corner of the photo, you'll see a rainbow trout that's about as long as the goose. People feed the birds here, and the trout have figured out that it's a good place to catch a free meal. Fishing isn't allowed from this spot either, so it's also a safe meal.
Comment: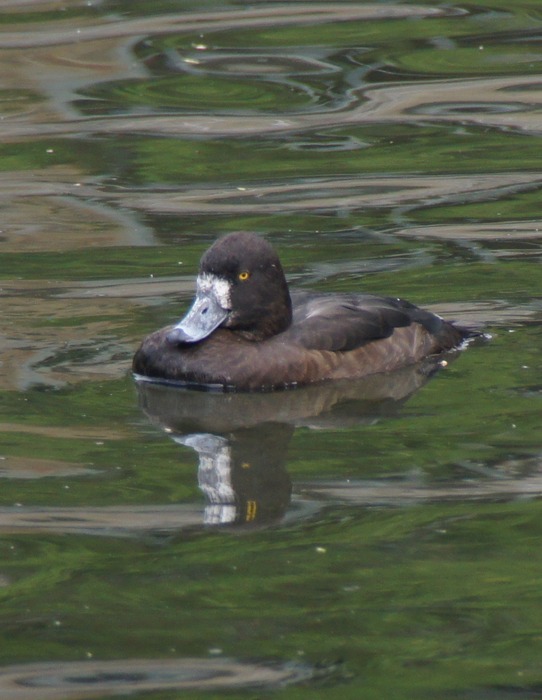 I believe this little ducky is a female scaup, a kind of diving duck. I like the way the water looks in this photo.
Comment: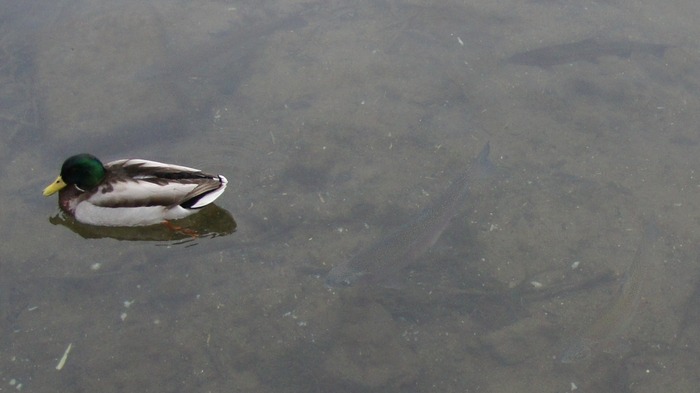 Just so you know the last trout wasn't a fluke, here's four more trout with a mallard.
Comment: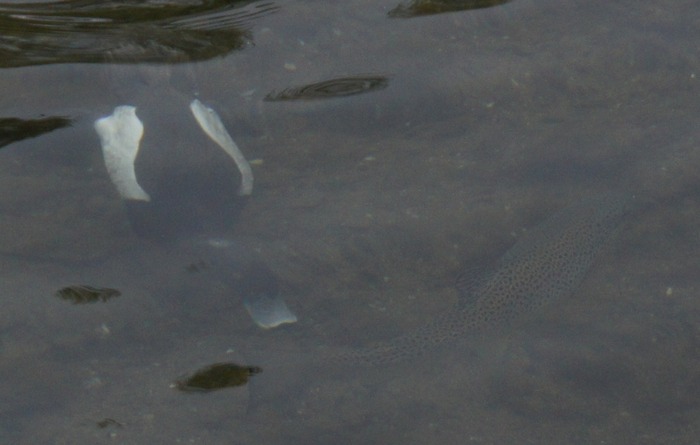 And, finally, a male scaup diving next to a rainbow trout.
Comment: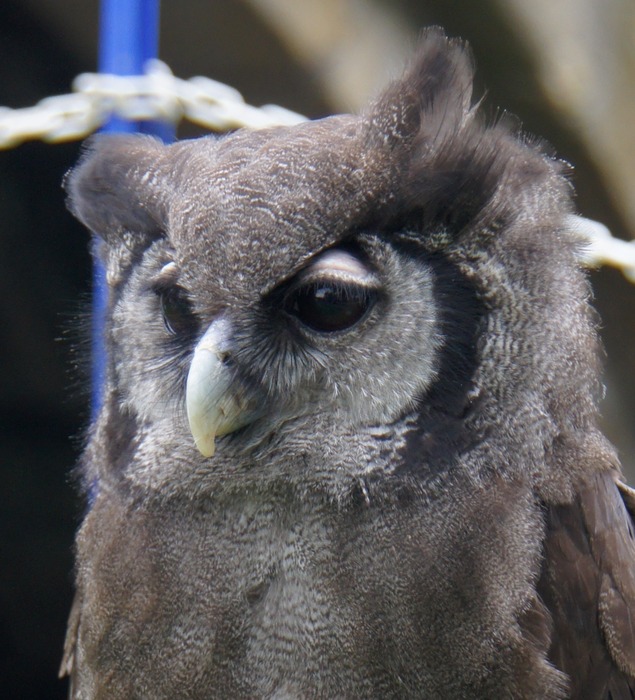 There was a raptor exhibit on the river's edge. This is a Bubo lacteus, Verreaux's Eagle-owl. They are one of the largest owls, reaching seven pounds at adult weight. Seven pounds may sound pretty small, but birds are very light - that corresponds to a wingspan of two meters (six and a half feet).
Comment: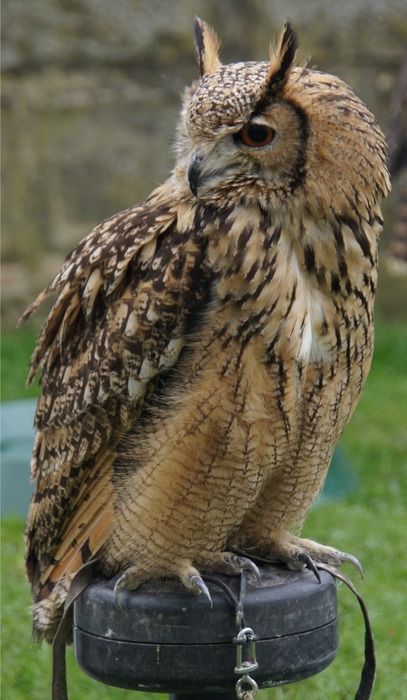 Bubo bengalensis, Indian Eagle-owl. (If you were wondering, our familiar great horned owl is also in this genus, Bubo virginianus.)
Comment: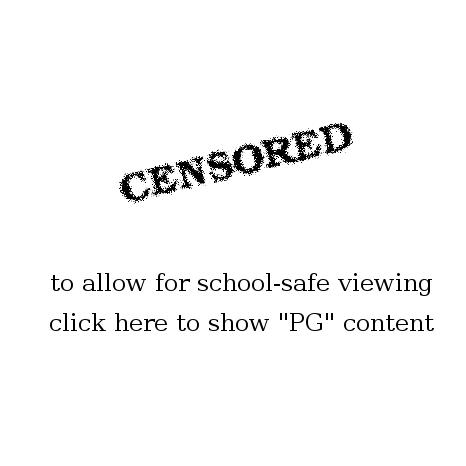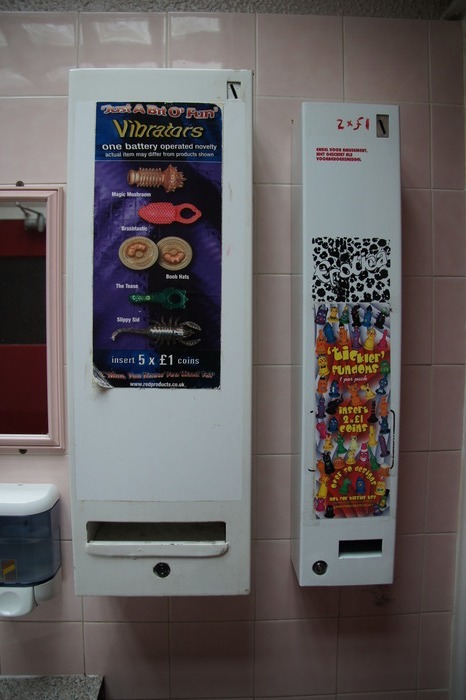 It was still fairly early when we went home, so we stopped by a pub in Matlock Bath. I've seen tampon dispensers in ladies' rooms, even toothbrush dispensers, but this was a first.
Comment: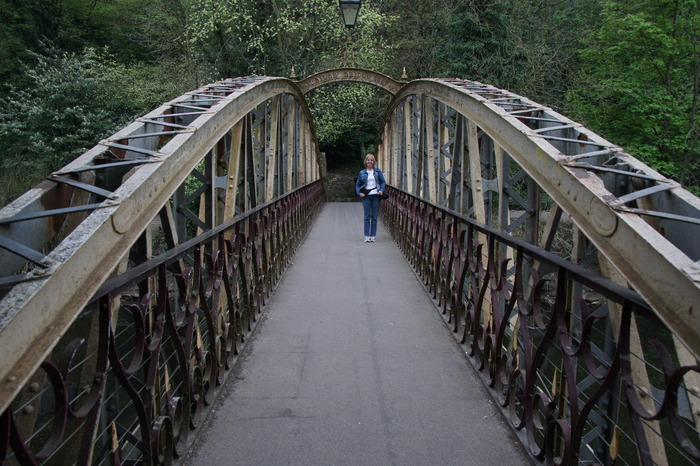 Mom on the Jubilee Bridge. The Jubilee was the 50th anniversery of Queen Victoria's accession to the crown, quite an achievement given the high mortality inherent in the job description. What this bridge had to do with it, I can't say.
Comment: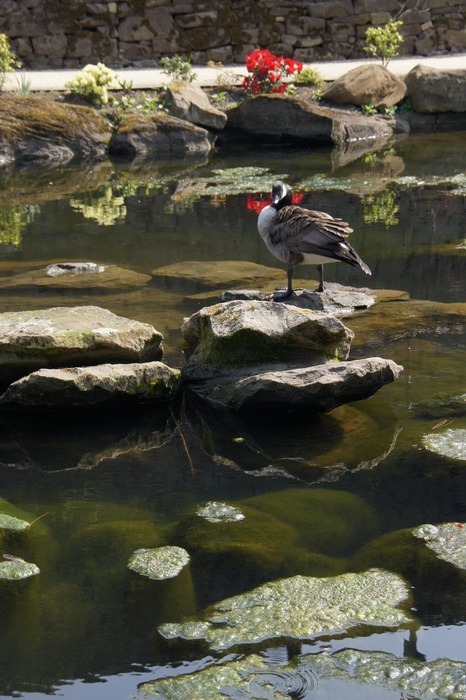 A pretty picture of a local pest - Canada geese are overpopulating in England.
Comment: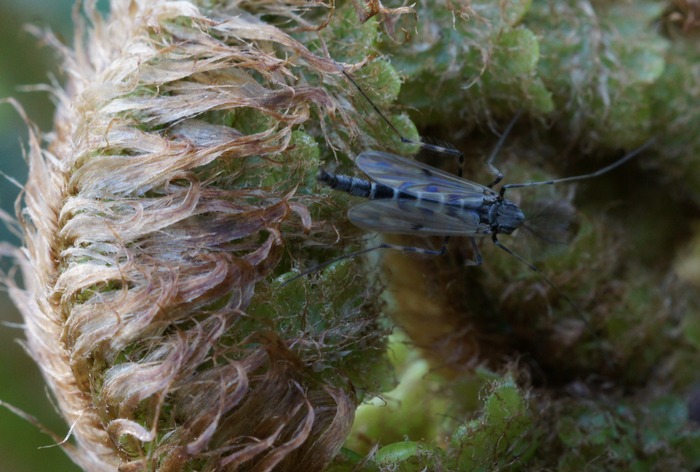 By contrast, this looks like a pest, but isn't - I believe this is either a male mosquito or what the Dutch call a mug - one of thousands of species of little flies which resemble mosquitoes (the biting kind is a steekmug in Dutch). Both male mosquitoes (which do not bite) and some of the non-biting muggen have fuzzy antennae. This one is sitting on an unfurling fern.
Comment:
---
Back to index