Fall Fungus of the World 2011: Ohio
We took our annual trip to the US during mushroom season. My idea of a great vacation is spending the whole day walking in the damp, periodically crouching in the mud to photograph or pick mushrooms. Luckily, my friend in Ohio agrees.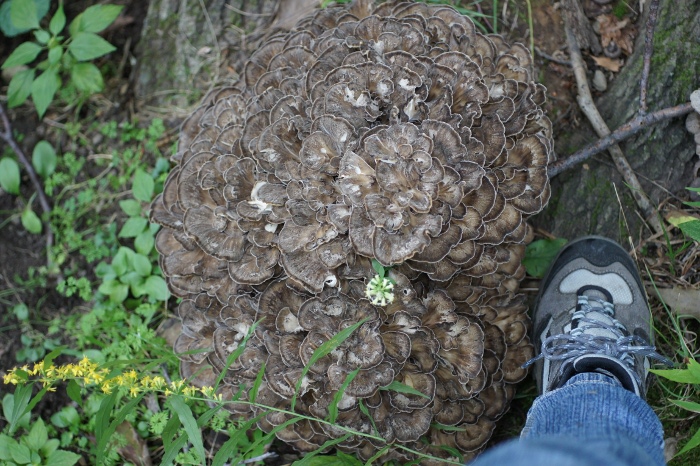 Could it be? The bases of the trees were loaded with huge, fluffy clusters of Grifola frondosa, also known as maitake. They have a hearty, woodsy flavor that goes well on a barbeque grill, but also served well in a stir fry. We took home just one of these clusters and had plenty left over.
Comment: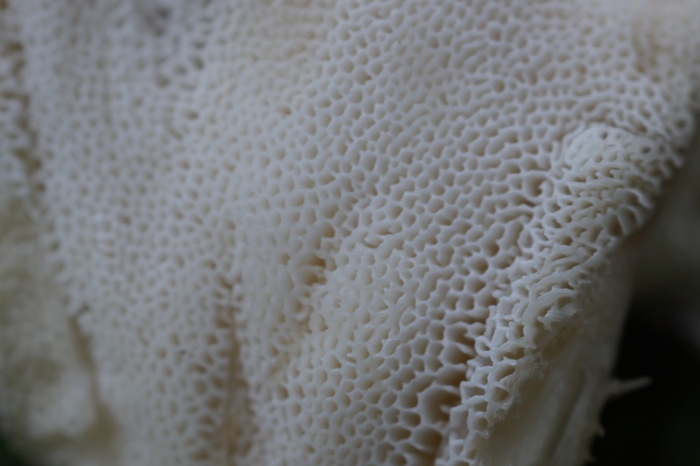 Pores on the underside of G. frondosa.
Comment: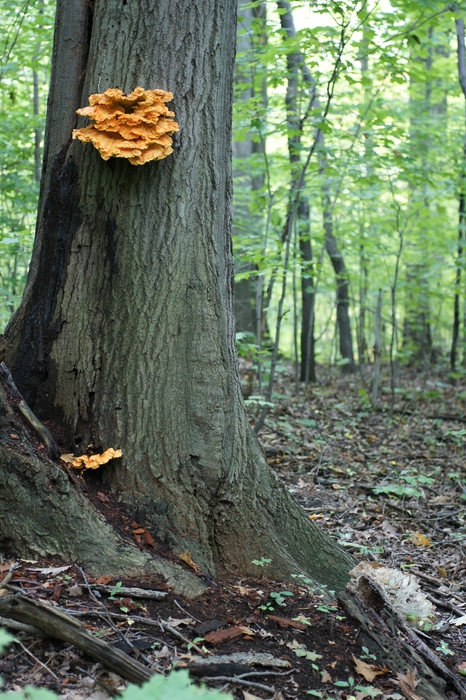 Unfortunate for the tree, but fortunate for mushroom hunters. This G. frondosa on the ground is accompanied by its bright orange cousin, Laetiporus sulphureus. Both grow on dying trees, but it is difficult to say exactly what role the fungus plays in the death of the tree. The fungus may contribute to the slow decomposition of the tree's roots and heart wood, or may provide a kind of fungal life support for its host to keep it propped up and supporting the fungus a bit longer. In any case, trees with maitake at their base will often come down in a wind storm in subsequent years.
Comment:
This looks like an ash tree to me. It also looks like there are small holes in it above the bright orange fungi. It is difficult for me to be sure of. If there are indeed small holes throughout the bark AND they are perfectly formed AND are the shape of a capitol D (almost looking like a circle, but usually with some flatness on one side) then the tree has died from an Emerald Ash Borer infestation, in which case all the Ash trees in the vicinity have died or are dying. Also, I believe the dead tree promotes fungi growth vs fungi growth promotes the death of a tree.
oak tree
The fact that there is a G. frondosa growing on it implies that it is oak. L. sulphureus will grow on either, but G. frondosa only grows on oak.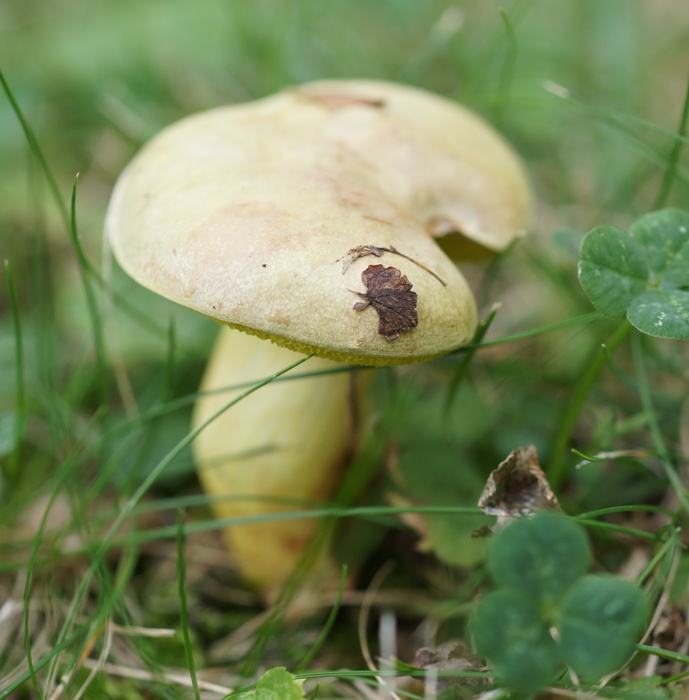 The grass in a few spots held some minute boletes. These were about two inches tall, and the caps varied in color from rosy pink to chartreuse. They might be Chalciporus piperatus (recently reclassified from Boletus piperatus), but I did not taste any of them to find out. The slight stickiness to the cap may point towards a small Suillus instead.
Comment: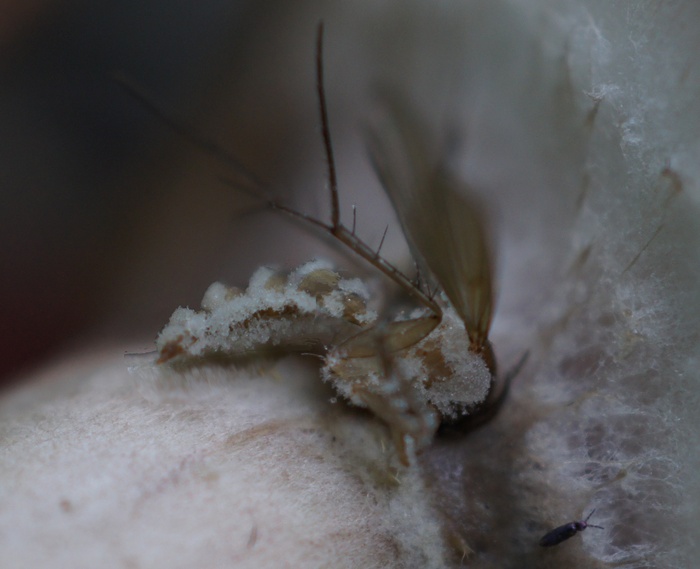 We found this gnat glued to the underside of a sticky Suillus. The slime of a Suillus is probably meant to be a deterrent to insect invasion, but seeing one killed rather than deterred was unusual. The macro lens, however, revealed a much more grim fate for the fungus gnat... note that there seem to be fungi sprouting from between the segments of its abdomen.
Comment: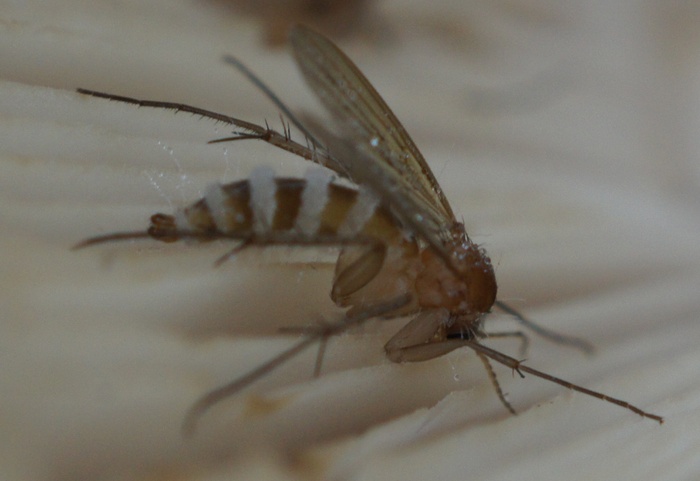 It could be just that the gnat had died there and the body was molding, but the next day we found this somewhat fresher example of the same thing. Here you can even see the droplet-like spore clusters on the ends of stalks sprouting from the gnat's head and abdomen. Both gnats died on the underside of a fungus, with their heads curled between their front legs. I expect this is an example of a fungal parasite, like the Cordyceps which infects ants, possibly Entomophthora muscae.
Comment: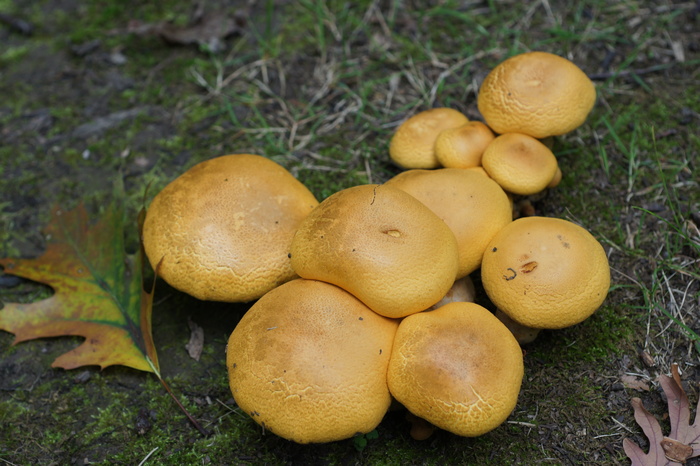 I'm not sure of the identity of these large, bright mushrooms. They were gilled, with little fibrillous tufts on the cap. The gills, stalk, and veil were all about the same color as the cap. The veil was thin and seemed to remain mainly on the edge of the cap rather than the stalk. They closely resemble Phaeolepiota aurea, but lack the granules on the underside of the veil. It could be a Gymnopilus, but there was no indication of blue staining nor of any wood for it to grow on. There was no indication of the slime normally associated with Pholiota.
Comment:
Any answers yet? Have several in my yard, and curious to the genetics
This looks like Gymnopilus luteus to me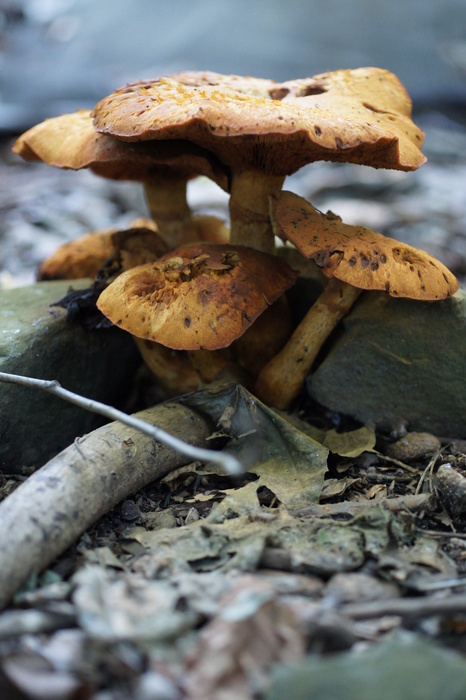 Another cluster of unidentified yellow mushrooms, possibly the same kind as in the previous photo, although in a very different setting. These were on the forest floor under mixed deciduous trees, including a big elm.
Comment: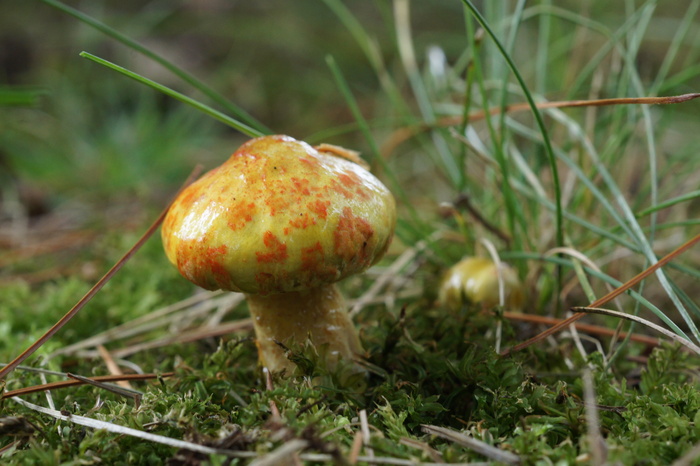 Another mushroom which has proven surprisingly difficult to identify. These were small, around an inch or two tall, with a bright yellow cap and even brighter orange spots in the viscid layer of the cap. I think they were a type of Suillus, as there were similarly sized open yellow Suillus around without the orange spots.
Comment: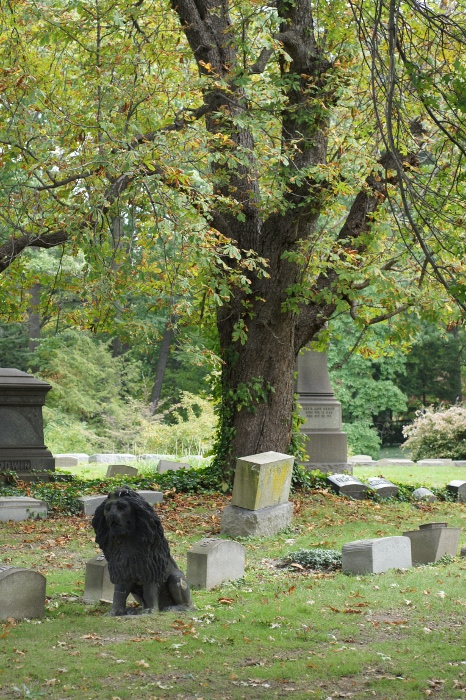 Did I mention we were walking around a cemetary? The lion is a weird marker. It's weathered, so it's been there for a while. Its pointing perpendicular to the other graves. It has an inscription, but it's half-buried so it's not possible to tell if its meant to mark a specific grave or something else.
Comment: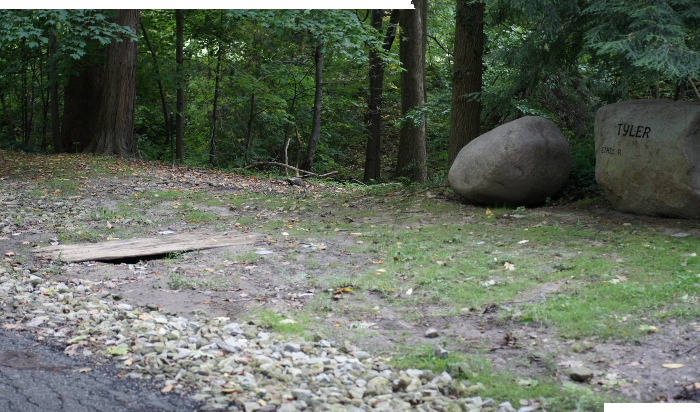 We also found this boarded-up hole in the ground, near one of the graves...
Comment: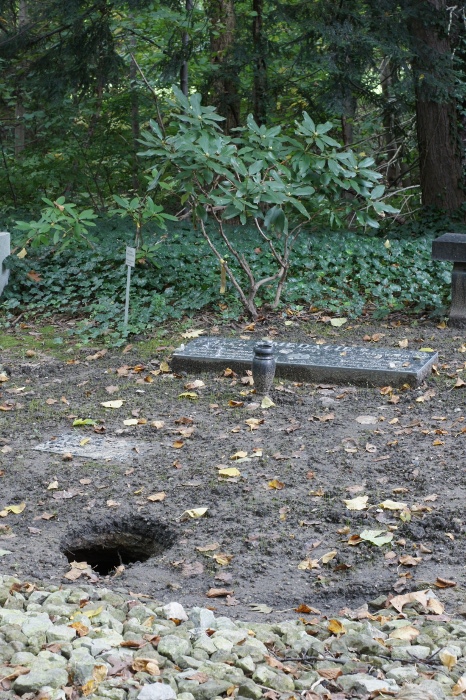 ... and this even-more disturbing, deep, open hole in the ground. Remember, if the zombie apocalypse starts in Ohio, you saw it here first.
Comment: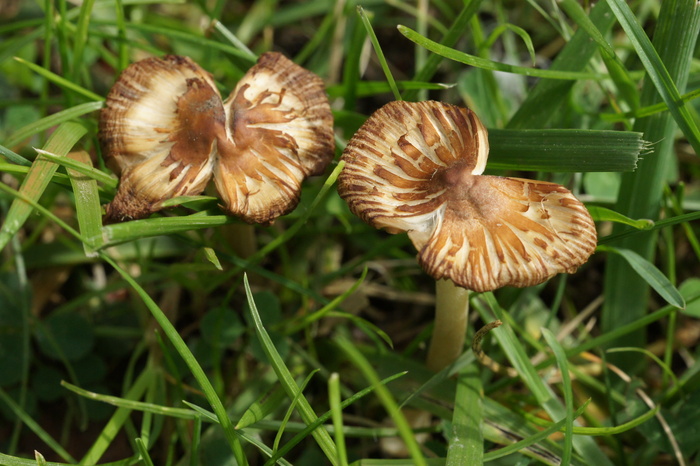 Tiny, butterfly-like mushroom, possibly a Mycena or Inocybe.
Comment: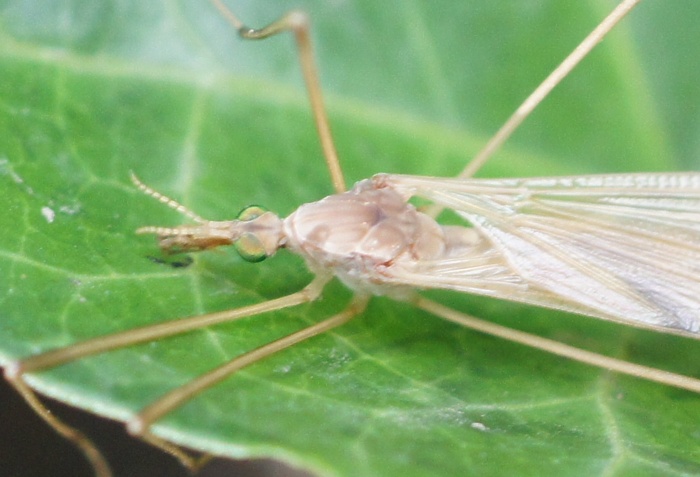 A close look at a crane fly. I never knew they had such nifty eyes.
Comment: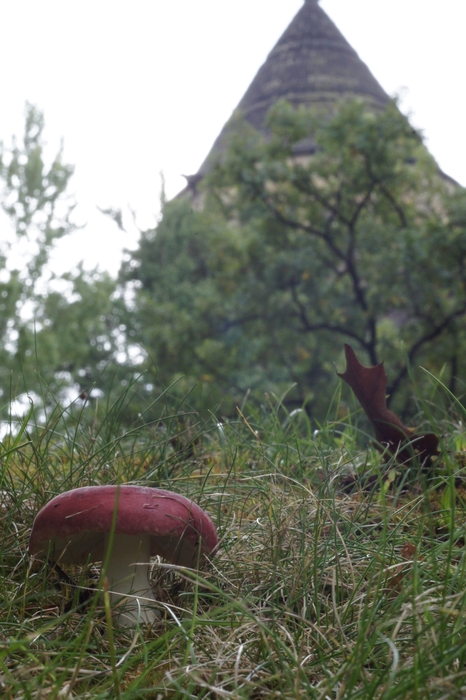 Russula species with a tower in the background. (There are several Russulas that come in this color, I have never had much luck distinguishing them).
Comment: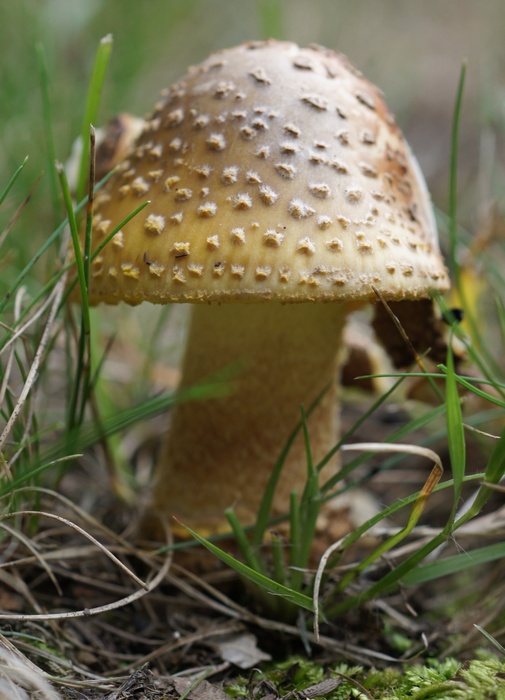 An Amanita, possibly pantherina.
Comment: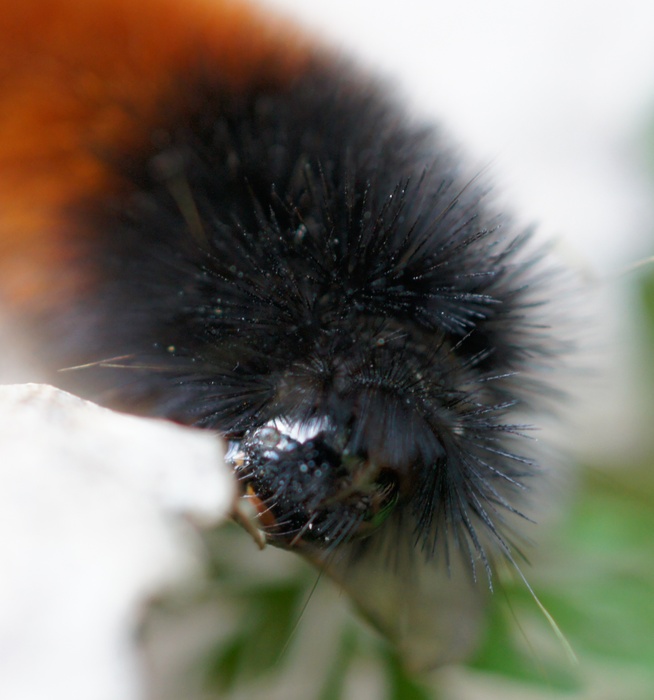 A look in the eye of a wooly worm, probably a Pyrrharctia isabella.
Comment: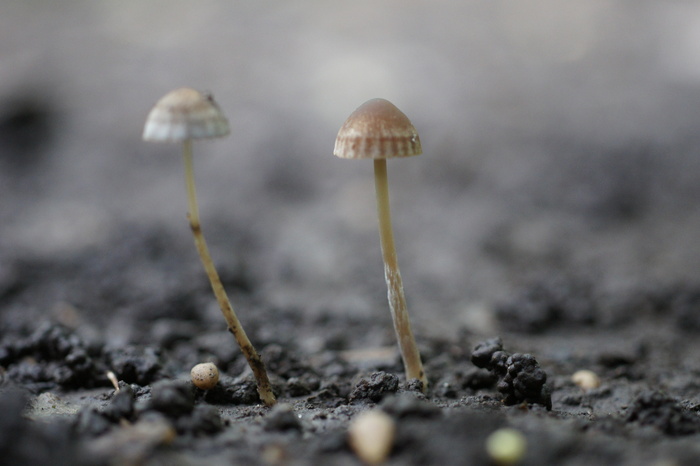 Minute mushrooms, probably Mycenas.
Comment: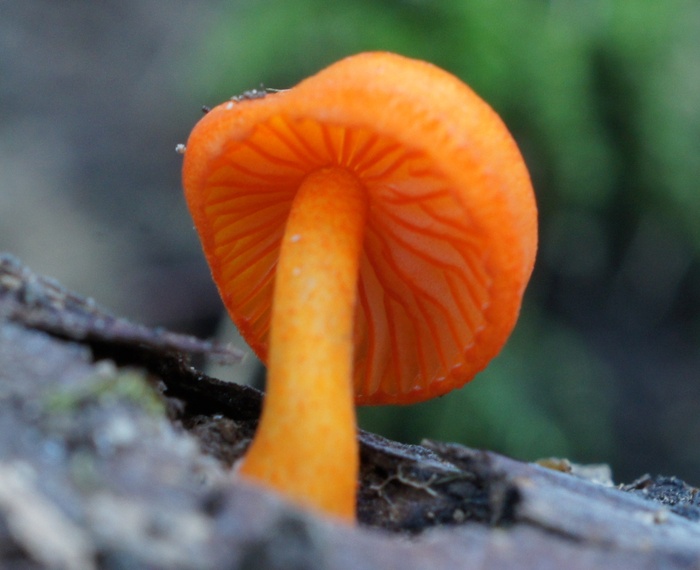 Probably Hygrocybe miniata, a tiny, bright waxy cap.
Comment: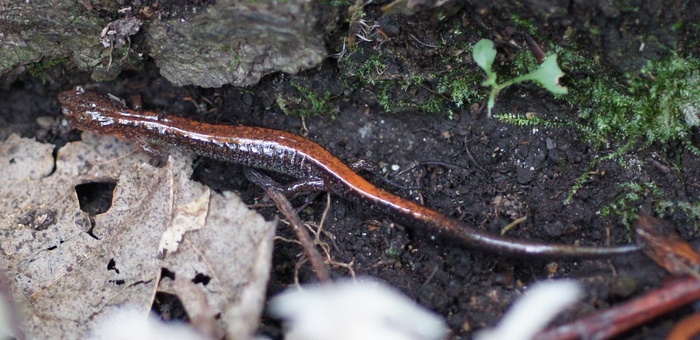 When we picked a maitake, we found a group of red-backed salamanders living under it. I managed to get a couple of photos before they ran away. These are a fairly common Eastern woodland species, but in finding the species I learned that there's a Chinese giant salamander. This picture is for real, and they get even bigger. They are, of course, critically endangered - China has a lot of people to feed and is rapidly becoming industrialized, both of which do not bode well for a large amphibian.
Comment:
White coral fungus, possibly Clavulina cristata
Comment: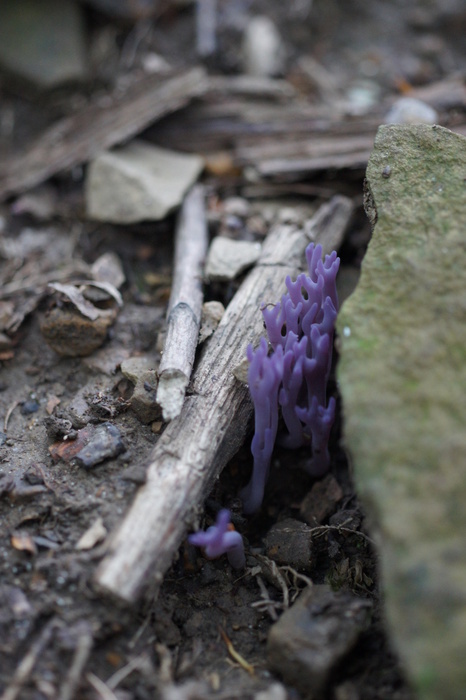 Believe it or not, there's more than one species of purple coral fungus. It is probably Clavulina amethystina or Clavaria zollingeri.
Comment: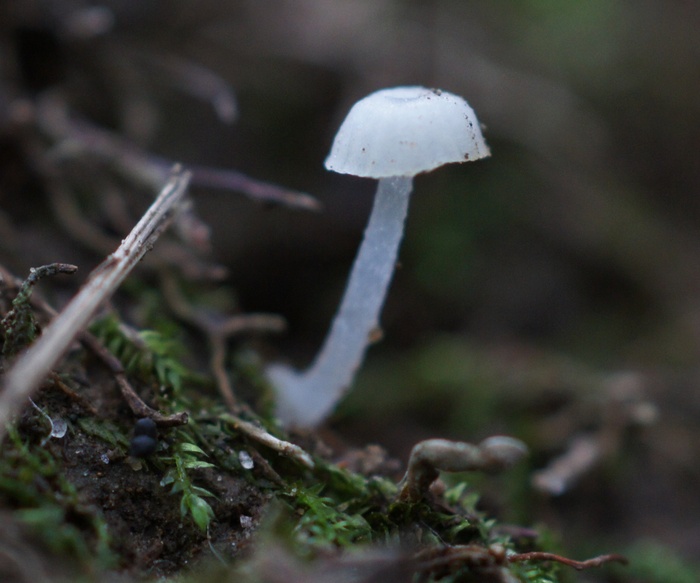 A miniscule Mycena, about 3mm tall (1/8 inch). There are several similar white Mycenas, this might be M. clavularis.
Comment: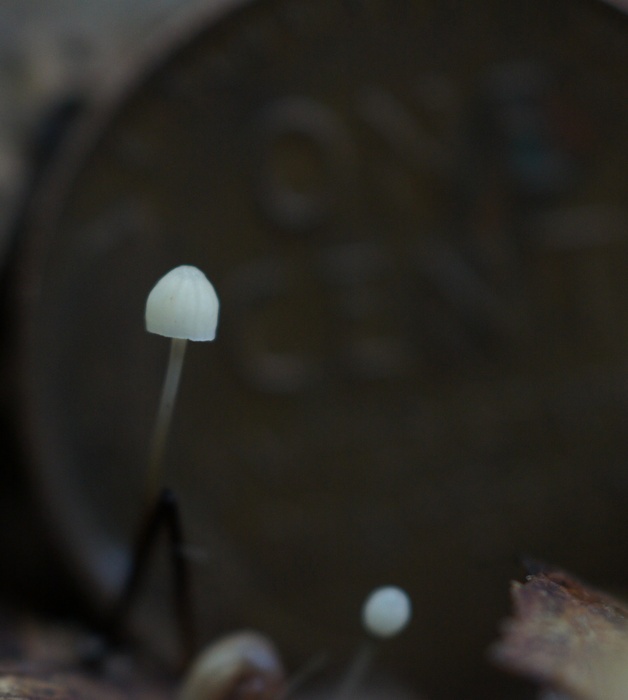 Another little white Mycena, with a wheat penny in the background for scale.
Comment: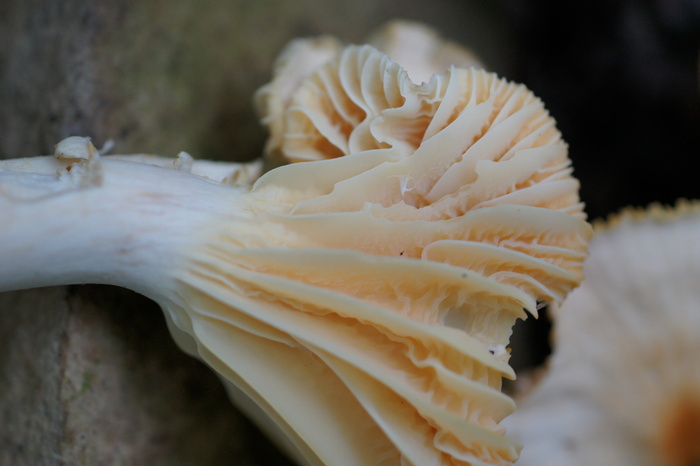 I'd always considered the name false chanterelle to be thought up by a blind mycologist wearing wool mittens. These things, though, are about as convincing a falsie as I've seen. The cap color is exactly right on some, and it takes a pretty close look to notice that these are true gills with wrinkles and not just wrinkles with wrinkles. I'm not sure that this even *is* a Hygrophoropsis aurantiaca, a mushroom I have inspected plenty of times in Washington.
Comment: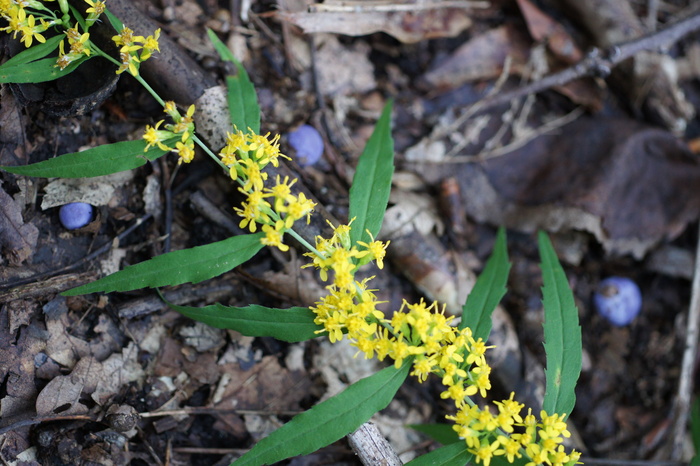 More pleasantly purple fungi. These are probably purple Cortinarius, but they are too young to identify for sure. I don't know what the flowers are.
Comment:
There were loads of these big, brown and gray mushrooms on the hillsides. With their big felty rings they superficially resemble the oft-reclassified matsutake. From the top they look like a typical Agaricus, at least until the margin begins to turn up. There was no evidence of colored spores, but the oldest examples had gills which had turned brown, about the color of the dark spots on the cap.
Comment: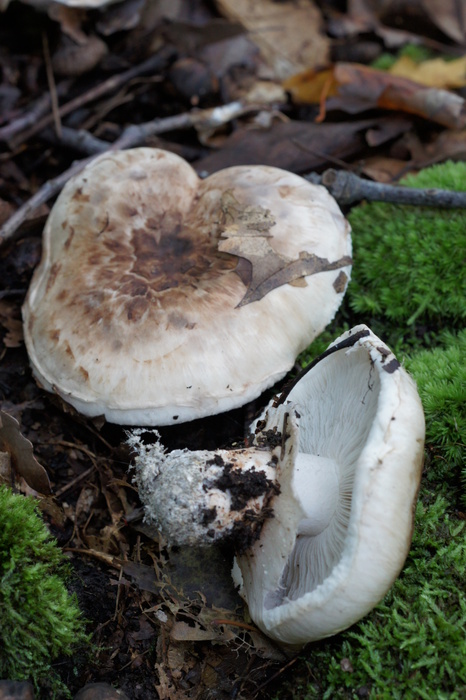 I believe, younger examples of the same species. The thick ring sticking out like a startled umbrella is pretty unusual.
Comment: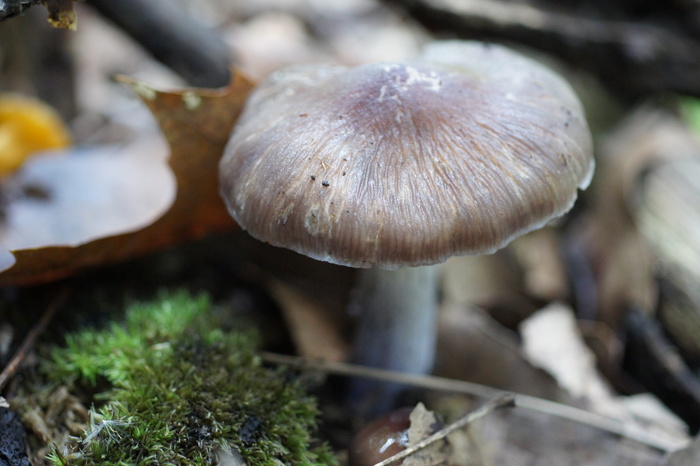 Cortinarius sp.
Comment: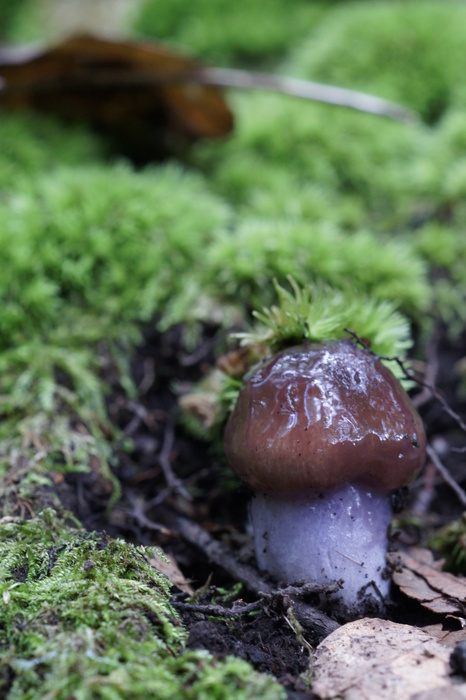 A young Cortinarius, with its slime shining in the sunlight.
Comment: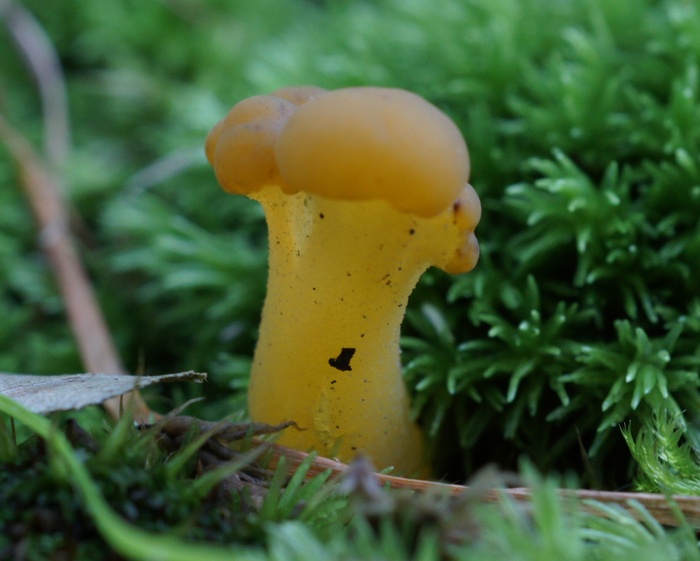 Leotia lubrica, a little yellow jelly fungus which forms a cap and stalk, but does not form gills.
Comment: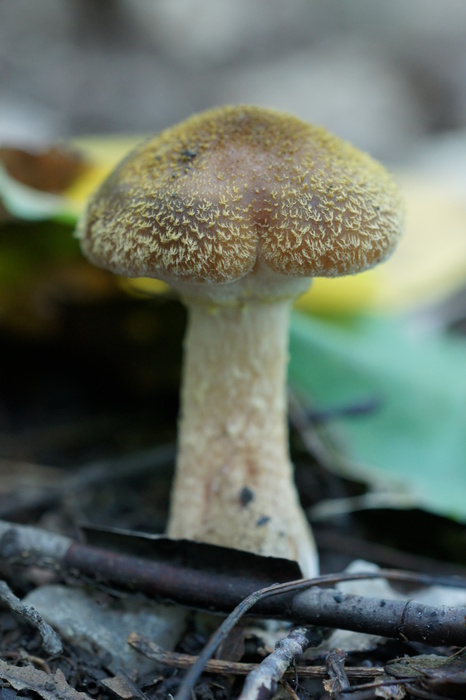 I have an affection for fuzzy fungus. This one might be a Cortinarius. I'm not sure if the felty stuff under the cap is a fat cortina or a thin veil, but either way the yellow ring in it is neat.
Comment: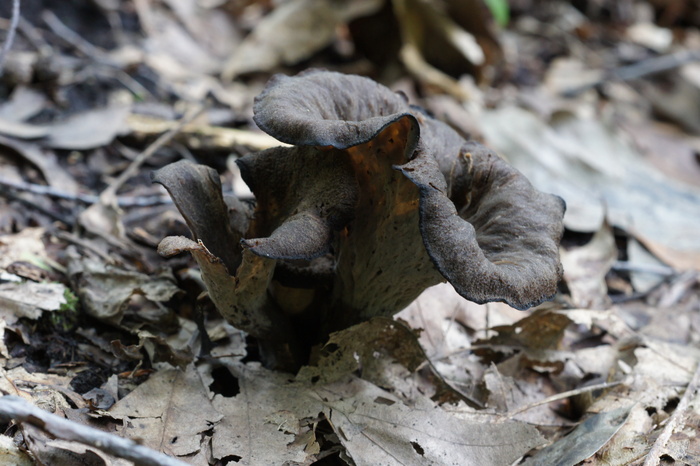 When mushroom hunting, careful inspection of dry leaves and holes in the ground can be very rewarding... I had no idea that black chanterelles grew in Ohio, but we found two large patches of them. These are one of my favorite edibles, so this and the maitake made my dy.
Comment: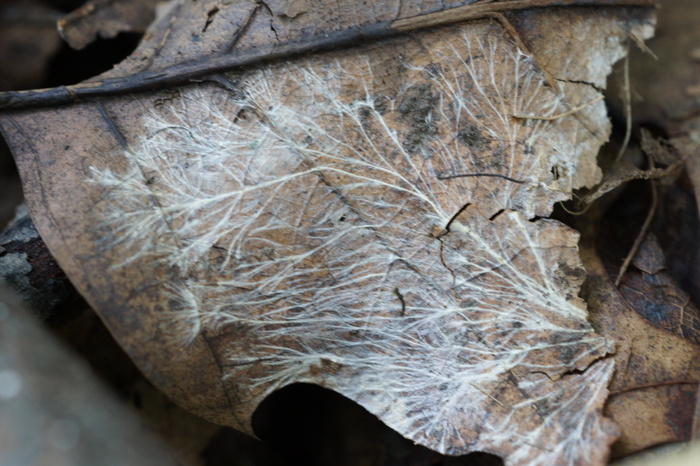 Exposed mycelia growing along a leaf. I don't know which, if any, of the nearby mushrooms it was associated with.
Comment: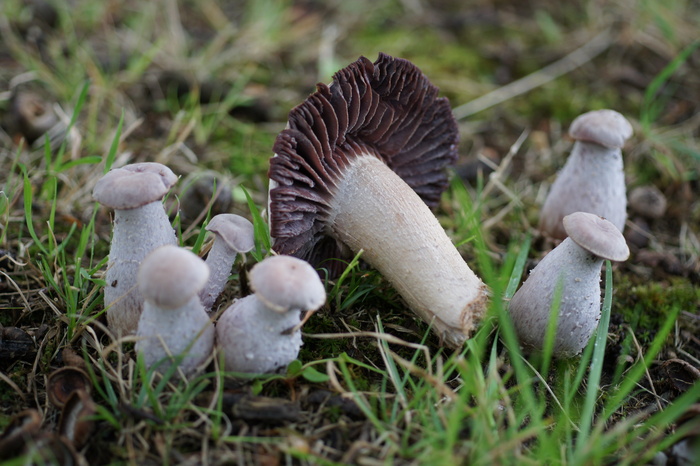 A stout species with deep purple gills, probably Laccaria ochropurpurea. They look a bit reddish here, but on most examples there were an almost glowing ultraviolet. They are reportedly edible, but with the other stuff we found, we had no reason to try them.
Comment:
---
to Mushrooms of the World: Washington
Back to index